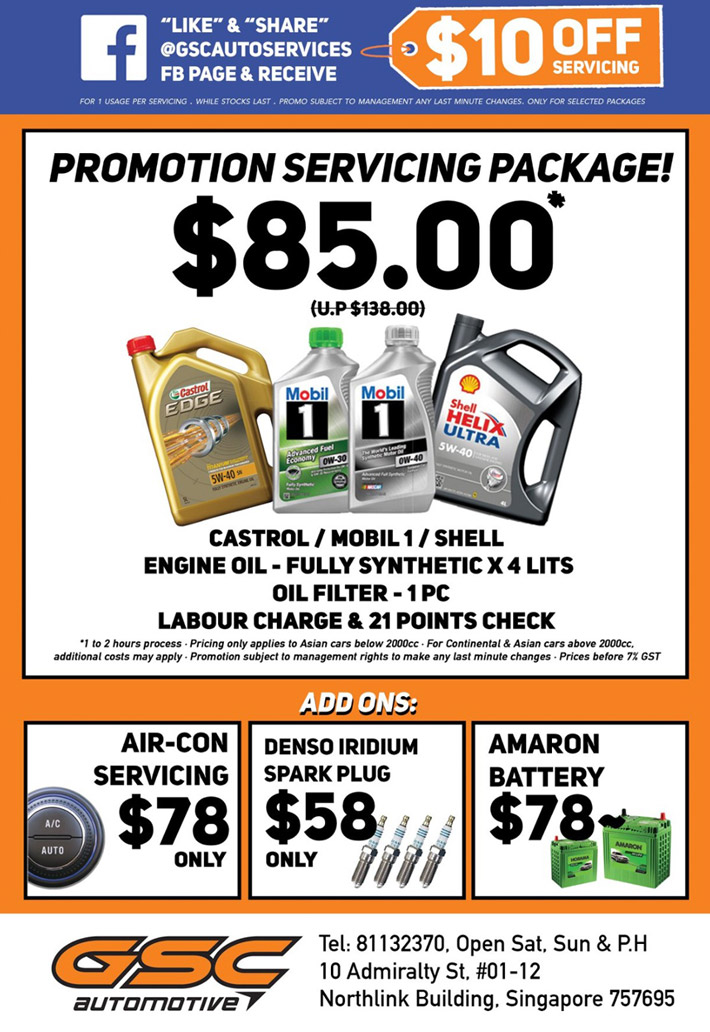 Installment (0% Interest):

About GSC
GSC Auto Service was founded in 1992 by a skilled technician, Soh Hock Yong. With over 35 years' experience in the automotive industry, he has built a strong team of well-knowledge technicians specialising in all brands of car servicing and repair (Continental, Japan, Korea, China, etc).

In 2008, GSC is proud to be the first private auto workshop to receive the Hybrid Certification. Mr Soh is one of the very few to have to specialise training on hybrid car's servicing and repair in USA. With our years of experience, we are equipped with the relevant knowledge needed to help you overcome the challenges you face with your hybrid vehicle.

In 2010, the auto workshop has gained much recognition in the car servicing and repair industry and has won many awards such as the 2010 Successful Entrepreneur Award.
Car Servicing
At GSC, we believe in treating every car like our own. It can be difficult identifying a trustworthy car workshop. If a workshop cannot tell you when you have your fuel line examine, then you should keep looking!

Our standard servicing package will include an engine oil change, an oil filter change, and a 21-point check.
KIC engine oil

Shell Helix

Mobil 1

Castrol
Car Repair
We understand the frustration when your car starts making weird noises, or just doesn't feel like its normal self, and you have no idea what's going on. Not to worry! At GSC, our team of mechanics will inspect your car thoroughly, to find out what will be fault be, and advise you accordingly.
Gear Box

Brake System

Timing Belt

Engine Overhaul
Testimonials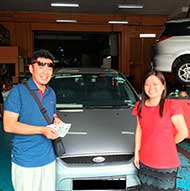 "I am driving a Ford Smax and was having problem with my power steering as it keeps leaking.

Went around searching for workshops but was given all sorts of theory. And one even recommended keep refilling the powering fluid and even ask me to buy my own spare parts from agent and they will repair it for me plus workmanship. I give a pass.

I have no choice but to ask google who can help me. And only one result came out GSC Automotive. Call up for appt. and on the very same day the Boss Mr. Soh told me no problem I will get it fix for you. After thoroughly checking the power steering . he told me my power steering rack was damage too.

I left my car with him as he told me to and he reassure me that he will get it done for me. He would quote the damage $$$ before getting it done.

All I could say is this workshop solve my car problem.

Their service is awesome. Ms. Jasmine will call and remind you of your appts

I would definitely recommend this workshop.

Thanking Mr Soh and his wonderful staff"

Best Regards
Michael Kay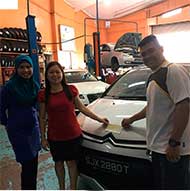 I will like to give full recommendation to others car owner with this auto services given by GSC Auto Services. Their senior staff Mr Soh was very attentive with the problem occurred with our car and the outcome was fantastic and satisfaction.

They had great packages of car servicing with reasonable prices and the troubleshooting of car problem was excellent I will never failed to come over for servicing here again for years and over.

I will still support to come over to GSC Auto Services if I have any problem with my car again.

Thanks to everyone here, the friendly approaching staff they like Mdm Jaslyn and Ms Jasmine, their hospitality very welcoming and thanks Mr Soh for all the good tips given from him about Continental car & Asian car.

Regards,
Shahrin Bin Kasbol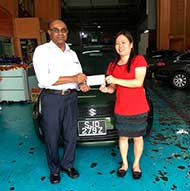 I ballu apparo owner of a suzuki swift sjd 279 z come frequently to gsc for servicing and other services. I am very satisfied with their workmanship.,the charges are also reasonable. The, foreman mr.soh is friendly and knowledgeable. The staff are also great. I am glad to recommend their services.

Ballu apparo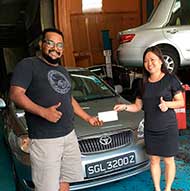 I chanced upon GSC during their festive promotions on their servicing packages which were much cheaper . I went online and saw a few of their reviews and it seemed promising.

I drive a 2006 Toyota altis and I came to GSC to do my servicing and to do a small check on my car. Mr Soh who conducted my check sounded me to suggest renewing my car COE as my car condition was very good. He even suggested which parts need to be replaced due to the current wear and tear if I intended to renew my COE.

I was very impressed with his honesty and pleased to hear an honest assessment of my car. When I when to make payment to my shock, I found out that Mr Soh was the boss of the company.

In such times, to see an honest boss who still touches every car that comes into his workshop is truly a gem. I have returned again and again because some things money cant buy. Honest pricing without premium charges.

Today I am happily driving my "old" car which feels and handles like a new car.

David Dhushendran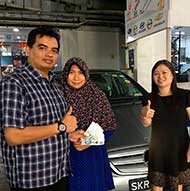 I want to take a moment to write a big "Thank-you" for all the great work your company has demonstrated: it's willingness to do things the "right way", and in a manner that keeps the consideration of the customer in mind.

Specifically, I had some issues with our B170 Merz. We have been going to several workshops before to rectify the problem. Unfortunately, the problem recurred again. Frustrated, I googled to search for an alternative workshop and saw some good reviews about GSC Automotive.

I was delighted that the owner, Mr Soh, had personally looked into the issues and gave an accurate diagnosis, my car was repaired within 24 hours. Then Mr Soh and team took the EXTRA TIME, with NO EXTRA CHARGE to ensure that my car was in tip top condition before hand over, they were looking into other issues that they had spotted and went beyond their opening hours to rectify them.

It is a pleasure to go to a workshop when you feel as though the people there are looking out for your vehicle and your best interest. I was treated very professionally and kindly. I was initially concerned about costs and had surveyed around to find that they had an absolutely fair price for the work I needed. I've had no issues so far, and plan to continue going to them for all my car needs.

Keep up the great work and services, GSC Automotive!

Badrol